The Triangle Man page
The purpose of this post is to analyze this entire page. It appears for one frame near the end of the title sequence.
There has been enough talk about the symbols surrounding the triangle guy, so I'm going to ignore that for now and focus on other things. Starting at the top right, we have a string of numbers and letters. There are a lot of zeros and ones, which brings to mind binary, but there are letters, too. Not sure what to make of this. It could be a code revealed later in the series, or it could simply fill up space.
This appears to be some kind of flowchart. However, according to a friend of mine who knows a lot about flowcharts, this doesn't mean anything. This could also be some kind of obscure map, or a code that is revealed later. However, I think that this, and a lot of other things on this page, was just something random the artists put in to fill up space. As disappointing as that is, this is a kids cartoon, and the creators and artists have neither the time nor the budget (but then again, this is a DISNEY show, and Disney actually probably has tons of money to spare) to fill every square inch on this page with something relevant. The whole point of this page is the giant circle with the symbols and Triangle Man. Anything else probably is just to make the page look better. If I were an artist working on this page, I would have just flipped through some relevant Wikipedia pages and drawn whatever looked cool (which is exactly what I did on a page in my webcomic with a somewhat similar purpose as this page) Still, this flowchart has an awful lot of detail to be a space filler. I don't want to leave this unexplored, however, I don't think we have enough info yet about the show to decide if this is relevant or not. We'll leave it for now, and maybe come back if we discover something further along in the series.
Near the top, about the heart, we have a couple alchemy symbols. If anyone knows what these mean, I'd like to hear it. But my guess is that this is another space filler. There is a little more on this and other symbols in the book on the Theories page.
Next to the flowchart is what appears to be binary. However, there aren't enough digits to make this an actually code (binary has to be divisible by eight, and this only has 12 digits). Either it is some other kind of code, or another space filler.
Below that is an hourglass. Judging by the size and what we know so far, and what we know about the upcoming episode "The time traveler's pig" (episode 8), this symbol probably has to do with that time traveler who could possibly be the Goggles Man. There's more speculation on this below and on his page.
Below that are a bunch of scribbles. They are unreadable and most likely mean nothing.
Buried in the scribbles are some more code, featuring the numbers 0, 1, and 2 (or the letter Z). This could be a later code, or it could be worthless. If it's a code that is anything like binary, I think it is too short to say anything important.
To the left are more unreadable scribbles and another alchemy symbol.
Next to that, right below the hand, is some kind of E-Z square symbol who-knows-what-this-is. Probably another space filler, because it seems pretty small and unimportant. However, it is right next the hand symbol, which probably represents the author of the books. Therefore, this could be some kind of code hinting at who the author is. However, it doesn't seem to have enough content to it to be some kind of code. It's probably some irrelevant symbol an artist thought would look cool on this page.
Now we jump to the top left. First we have some kind of matrix system. For once, I'm actually glad I took pre-calculus, because I could actually recognize it. From the looks of it, it seems pretty worthless. This kind of function is used to convert different kinds of coordinates in math. If anything, the author used some empty space on this page to do a conversion of some kind, resulting in a finny matrix in the corner of this page.
More scribbles, things crossed out. Again, seems to not mean anything…
Below that is the wonderful three-letter-back code we all know. "STAN IS NOT WHAT HE SEEMS" You probably already knew this, so I won't go any further. Some further speculation on this is on the Stan page, if you want to read more.
Next to that is a W-like symbol. There are a lot of these that appear in the book and other places. It might mean something, it might be a random alchemy symbol, or some other symbol and artist came across and really liked. If we see this in places in the series besides the book, though, it might turn out to be important. It IS next to that Stan code, so it might symbolize that there is a code or a secret, or something about Stan.
Below that are some lines with hashes through them. Probably worthless? If anything, it was a small note by the author while trying to calculate something with a time line, or measure distance or the size of something.
Below that are more unreadable scribbles. Next to them, however, is the awe inspiring "Konami Code." If you don't know what this is, I would suggest googleing it. Why it is on this page, though, is probably that an artist decided to be awesome and leave a little Easter egg for major video game nerds.
Below that are some odd symbols. They could possibly mean something, but they look a lot like alchemy symbols and don't seem to have enough content to them to be important.
Below that are more scribbles, and another line with a hash through it.
—SPECULATION—
Let's go back to the circle and the symbols surrounding the Triangle Man. Here's my theory on this: Each symbol represents a character. First, the pine tree is Dipper. It's the symbol on his hat, and his name is Dipper PINES. Next is the moon-like half circle. This is on Stan's fez, so it's almost certainly him. Also, notice that the code "Stan is not what he seems" is right next to this symbol. Coincidence?? Next is the bag of ice. I speculate it is Wendy, because she is "cool," and ice is seen often in scenes in episode 5 with her in it. However, it isn't as obvious, so it's hard to say for sure. The question mark seems to most likely be Soos. It's on his T-shirt, and it seems like working at the Mystery Shack is very important to him (unlike Wendy). It could possibly represent the Mystery Shack itself, but I'm pretty sure that the symbols on this page only represent characters. Next are the glasses. It's too hard to say for certain who this is. My guess is it is either a background character right now who will be important later, or a character that hasn't been introduced yet. It could even be the person who has book 1. It does look a lot like Stan's glasses, but I don't think Stan would be given two symbols, and the other one seems to fit him better. Maybe it's a relative of Stan's, or an evil twin brother or someone who would have similar glasses to him? Next is the heart. This seems to be pretty obviously Robby. It was on his shirt, and if you've seen any previews for episode 8, he seems to be more than a background character. Next is the shooting star. The only character who this could logically be is Mabel. It's on her shirt in episode 1, and if you look closely, it's all over her room and other things of hers throughout the series. Also, her initial concept art designed her wearing that sweater.
Next is the llama. Mabel had a llama sweater in one episode, but I'm pretty sure that they wouldn't use two symbols for the same character, and the shooting star seems to match Mabel better. My guess is the same for the glasses: it could be a background character or someone who hasn't been introduced yet. After that is the six-fingered hand, the same symbol that is on Book 2 and 3. I'm pretty sure this is whoever wrote the books, because it doesn't seem to be anyone else. Last is the star. This is probably Gideon, since it's the Tent of Telepathy's logo, and Gideon is probably an important enough character to be listed on this page, especially since he has book 2.
I have a question, though, and I don't think anyone else has brought this up anywhere at all. You know the Goggle's man? If he's so important, why isn't he on here? If he had a symbol, I'm pretty certain it would be an hour glass, since episode 8, which I'm pretty sure is about him, is COVERED in that symbol. And hour glass is also on a strange device on his belt. You can go to the Goggles man page for a pic of this. The Goggles man seems PRETTY DARN IMPORTANT to be in half the episodes so far and in the intro. It's possible he is actually the author of the books, and therefore his symbol would be the hand. This is possible, but the books look really old. And the Goggles man seems to be from the future or somewhere very high-tech. Also, if he wrote the book, I would think that his color scheme, which is pretty much all grey, would be more like the books' scheme, which is gold and red. If you look to the left of the circle, there is an hourglass there. It's slightly different from his apparent symbol- it has more detail- but at least it's on this page somewhere. Still, why wouldn't it be in the circle with the rest of the characters? Maybe they are all important in some kind of greater event, and he isn't, he just watches from the sidelines (like he has done in some episodes so far). This seems pretty likely, but we wont know until we get there.
So, who is the triangle man? The most common theory is that he is the "him" that the author is hiding from. The author seems pretty obsessed with this, because there are doodles of eyes all over the book. The Triangle man is pretty much the main focus of this page, as well as his giant eye.
But all of this is pretty uncertain until we get some definite evidence from the show.
Another question: If this is actually a page in one of the three books, how did the author know about all the characters? One option is that this page was actually drawn by Dipper, in a point in time much later in the series, when he knows about all of the characters and the triangle man. Remember, Dipper began writing in the book at the end of episode 1, and he probably still does that, even if it's not shown on-screen. Still, if Dipper wrote it, what would all the other symbols and numbers mean, and why would Dipper write them? It's also possible that the author drew this, but didn't finish, and Dipper drew the symbols inside the circle and everything else was already there. This seems less likely, though.
Another possibility is that the overall plot of the story, whatever that turns out to be, happened before. Say, like, twenty years ago or something. And that each current character, Dipper, Stan, Mabel, etc, had their twenty-years-ago counterpart. Maybe Stan was part of this twenty years ago, with the same, or different, role/symbol that he has now. Maybe the role of Dipper was the one who wrote the book, so his symbol then was a pine tree, and now it is the hand. The reason his books have a hand symbol is because he borrowed it from the character who previously had it, for whatever reason. This kind of history-repeating-itself is an interesting plot device that is used sometimes. However, this theory seems a little too farfetched to be likely.
Unless we get more information, most likely is that this page doesn't actually exists in a particular book, and that the creators of the show made it to hint at parts of the series and to drive all of us GF fans totally crazy over it, which is exactly what I'm doing. Hm…
Gifs
Feel free to use these for whatever you want
If you have a gif that you want to appear here, feel free to submit it (send me the image URL, not the file, please) ((See the Submit page for more info))
The gifs kind of glitch out after a while because there are so many in this post, but if you right click and open the image in a new tab, they work fine.
The Intro
The bus that the twins take to gravity falls is called the Speedy Beaver 
This shot is directly from episode one. Dipper is wearing his old hat, and Mabel is wearing her rainbow sweater, the one with the symbol that appears in what I will refer to as the "Triangle-man page," the one with the circle and all of the symbols that might represent different characters. A similar rainbow symbol is also on her suitcase. One if Dipper's suitcases says "piedmont" (anybody know what this is??).­
Later in the intro, Dipper is seen with his new hat, but Mabel seems to be wearing the same sweater. (However, she now sports a headband and not a visor)
This giant foot that they are standing in is a little bit odd. For human feet, the largest toe should be on the curved side (observe your own foot if you don't believe me). This is backwards, however. It's probably just an animation error, but why not mention it?
This is first shadow that flashes across the screen. You've probably seen the second one, with bigfoot, but is this? A little stretching and scewing and…
Hmm. Doesn't really look like much. Probably nothing, just some random squiggles that the artists put in and then motion blurred and such, but you never know?? Any ideas, guys??
Here's bigfoot anyway for those of you who haven't seen it.
Here's some good stuff… Open for speculation: where is this place exactly?? Some people say it's in the upcoming episode "Irrational Treasure." What do you think? Now let's examine the runes.
From top to bottom, the runes seem to be "Uruz" "Mannaz" "Othala" and "Ansuz" (or possibly "Fehu,") each rune roughly means "strength" "self" "inherited property" and "wisdom." Roughly. Meh. If anyone knows more about this (I certainly don't), information is much appreciated.
SPECULATION: If you've seen any of the previews for the upcoming episode "the time-traveler's pig," this is probably that pig. It has the same spot around its eye, and if the goggles-man is the time traveler looking for his pig, and the goggles-man is important enough to appear in almost every episode so far, than the pig is probably important enough to appear in the theme song. So this is probably that same pig. Yay, logic.
SPECULATION: Any idea what this is? I think it is a giant vampire bat.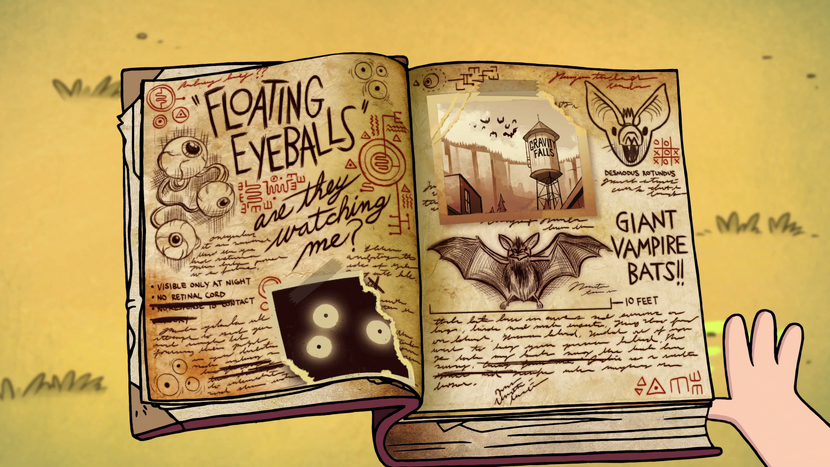 THIS STUFF. I'm far too lazy right now, but when I get around to it, I'm going to go frame by frame and try to assemble a large version of the entire page without Dipper's hand in the way.
We can already see some familiar images here. That odd scribbly code in red, the triangle-man, some apparent code decoder #8, that odd W symbol, and those alchemy runes. When I get around to that final image, everything is open for speculation!!
We can't do much with this page except for speculate. I'll take note of some things I notice. We can see Gideon, a Gnome, and the goggles-man. The rest are unknown, however, there appears to be some kind of fish-man, similar to the Fiji mermaid, some jackalope, alien UFOs, and some scarecrow thing? Other pictures are harder to see. The one on the top shows somebody with a large nose and a goatie, next to that is something with pink in the background and something pointy and yellow. Bellow the Fiji mermaid is something grey and blurry, and next to that is a repeat of the scarecrow thing. Behind the UFOs appears to actually be a shot from earlier in the intro:
 and behind that is something brown, blurry, and kind of spotty.
Further along we get what seems to be a pteradactyle and a vampire.
Speculation on what these pictures are: Some people wonder why there is a picture of a gnome when Mabel said they never got any pictures of them in episode 2. I believe that these pictures don't actually exsist, they are just in the intro as an animation choice, or whatever you want to call it, to show viewers the kind of creatures the Pine twins encountour throughout the show (because that's what TV show intros do. Honeslty, everything we see in the intro shouldn't exactly be considered canon until it is seen in an episode, because of this fact) However, if gnomes reapear later in the show, and they get a picture of them, then these photographs could actually exsist, possibly in a scrapbook of Mabel's. Also note that there is a bite taken out of the Gnome photo.
And this. Nothing particular, except that Mabel is once again seen in that sweater. Really, it's just a cute photo :3
We all know this picture. But if you look closely at this
You'll notice the numbers "618" and "31", which seem to occur often throughout the show. More on these, including a better picture, on the Numbers page.
We all know this picture too. I won't go into it much, since I will have an entire separate post about it, but I thought I might as well include it. Also, I feel awesome because I paused on it perfectly and didn't have to go frame by frame to find it.
Yeah, that guy is definitely important.